Running Remote
Running Remote 2022: Five 'Remote Work' Problems that Companies are Solving
Employment, insurance, corporate retreats, team meetings, and more...
The main topic of the Running Remote conference—which took place in Montreal (and online) this week—is embedded right into the event's brand: "remote".
The two-day event showcased speaker presentations and panel discussions covering a breadth of remote work topics, ranging from asynchronous communication to commercial real estate, to diversity and inclusion.
Running in parallel to the speaker sessions, a remote work trade show was held in the historic New City Gas venue in downtown Montreal. Companies from all over the world attended as sponsors and trade show participants.
By meeting with and talking to founders and marketing reps—and by observing which companies were investing their time to come to a remote work-centric conference—we were able to distill 5 key themes in the race to serve 'remote work' markets.
International Employment and Payroll
This was, without a doubt, the biggest problem space that companies were tackling, in terms of who was the conference's biggest sponsor — Multiplier — as well as external data on how much VC money is flowing towards companies in this industry (hundreds of millions).
The problem that companies like Multiplier, Oyster and Payoneer (also in attendance) are solving is the burdensome compliance required when employers need to hire and employ people in countries that are different from a company's domestic headquarters.
Even employing people within one's own country can be a complicated affair, with the administrative headache of social security payments, workers' protections and insurance, paid time off legislation, payroll tax liabilities, and more.
Now imagine the complexity facing a company with hundreds or thousands of employees around the world.
And on top of that, layer in a new reality where workers don't necessarily stay in one country for long periods, taking advantage of remote workers or digital nomad visas to "work from anywhere".
Traditionally this "ex-pat support" could only be undertaken by extremely large corporations with dedicated HR and international employment departments. Or, in some cases, smaller companies could use expensive workarounds with employer-of-record ("EOR") companies. These EOR companies haven't traditionally been particularly cost-effective, and most don't have the slick user interface and "it-just-works" philosophy of the new generation of international payroll providers.
Companies like Running Remote attendees Multiplier and Oyster have emerged to fix this problem and let anyone "employ anyone, anywhere".
There will be different aspects of this problem (and different geographies) for companies to compete on. For instance, Payoneer, a publicly-traded company rather than a startup, is more focused on cross-border payments. Additionally, other competitors not in attendance have also raised significant venture capital rounds.
Remote Meetings and Asynchronous Communication
Remote meetings were the hot topic of the last two years, with the global coronavirus pandemic forcing many remote-friendly and not-particularly-remote-friendly companies to conduct business differently.
Remote meetings are notoriously hard to pull off, and memes about the poor user experience of the dreaded "group conference call" have been around for decades.
Several companies at Running Remote have taken this challenge up and are building software-as-a-service companies that help try and make remote meetings and asynchronous communication better.
Fellow and Doist (the company behind Todoist and Twist) were both present at the conference, with members of their leadership teams moderating panels and talking about their product — both the software itself but also the 'asynchronous' management philosophy they aim to evangelize
Both companies are tackling the problem of 'unproductive meetings' with a remote-first approach and an 'async-first' philosophy. 'Async', for short, a new management philosophy term, refers to an approach to team collaboration that aims to actually cut down or eliminate the need for 'synchronous' meetings — leveraging tools like instant messaging and annotation to allow people to chat about business problems — on their own time.
Fellow has an origin story that includes convincing Shopify to use their meeting collaboration and management software very early on as an early adopter customer.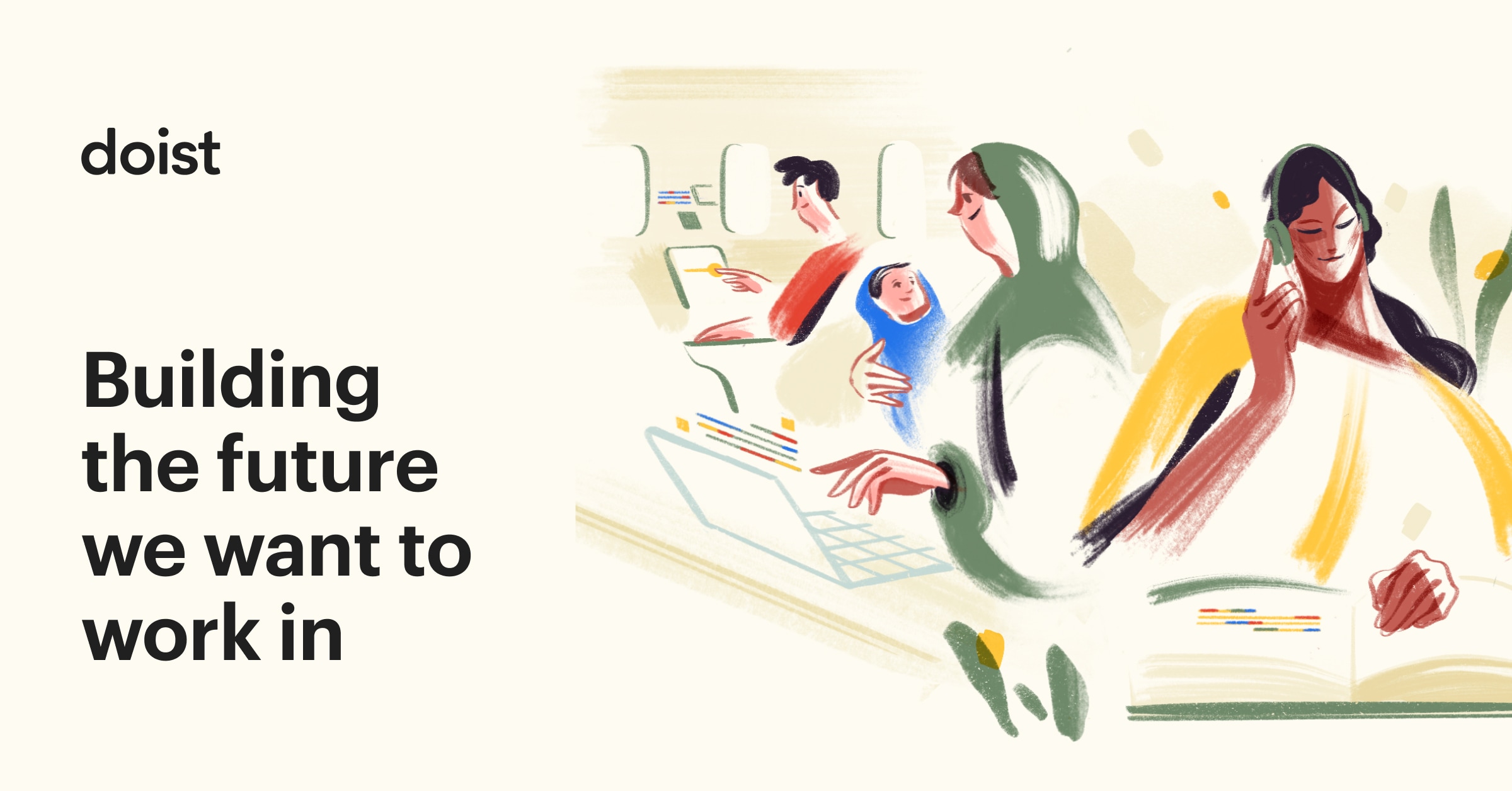 Doist's Twist is a product that aims to help cut through the endless noise of information from email, Slack, and project management software, and allow people to get relevant information, communicate, and make decisions across multiple time zones with less overhead.
Health and Travel Insurance
Remote workers and digital nomads create liabilities for employers, whether they know it or not. That was the message during Insured Nomads CEO Andrew Jernigan's and President Allen Kolski's presentation on the first day of the conference (Disclosure: Insured Nomads sponsors our weekly newsletter).
Health and travel insurance for people who work in one country that isn't the same as their place of residency or citizenship — or for those who travel through many countries — is an emerging area of interest and potential concern for employers.
Companies like Insured Nomads and SafetyWing are looking to simplify this compliance problem with health and travel insurance plans that are 'remote-first'.
Typical health insurance plans assume that someone might be on a business trip or temporary relocation. Most 'travel insurance' plans are actually just emergency plans and not true worldwide local healthcare. With products that take into account the new nature of remote work, remote insurance companies can compete in a massive multi-billion industry—ripe for disruption in this niche.
In-Person Retreats for Remote Teams
The company with the coolest trade show booth (a bulletin board with a variety of pennants and stylized merch) was Offsiter.
Offsiter was founded to address a problem that will become more acute as people work remotely for longer and longer — the need to bring people together in person.
It's one thing to subsequently "go remote" with a team you have already spent years bonding with in person — but what about team-building for companies that have never met in person? Or companies that want to reward teams the good old-fashioned way — with a fun trip?
Offsiter predicts that curated, vetted in-person experiences in cool places like Palm Springs and Austin, Texas will be something companies want to invest in to help bond their remote teams together.
They deliver a platform that helps facilitate and manage these trips.
Same-Time-Zone Recruitment
Did you hear that Salesforce announced this week that they will start advertising job vacancies by time zone?
Some companies, like Mexican startup Simbiosis, are betting that time zone synchronicity is going to be a top factor in recruitment and hiring. Simbiosis focuses on the recruitment of remote devs in Latin America — specifically promoting the advantages of Latin American software engineers for North American clients, who can benefit from time zone concurrence with far greater ease than when outsourcing to Europe or Asia.
While we have heard a lot about outsourcing to South Asia and Eastern Europe for many decades, the era of remote work will likely generate more interest in the benefits of South American recruitment for North American companies.